100+ LPs are now part of the ESG Data Convergence Initiative
The EDCI's mission is to drive convergence around meaningful environmental, social, and governance metrics for the private markets. It generates actionable, performance-based insights based on comparable ESG data from more than 4,000 private companies – with participating firms from all over the world and across all sectors.
The EDCI allows LPs, GPs, and their portfolio companies to benchmark their current position, streamline ESG data requests, enable greater data sharing from GPs, and generate progress toward ESG improvements.
The EDCI has several value propositions for LPs
The EDCI has several value propositions for LPs
01
Streamline Reporting
Simplify reporting processes by converging around the definition of key ESG metrics
02
Increased Transparency
Gain clear insight into ESG performance as it compares to a standardized benchmark
03
Improved ESG Goals
Drive and track progress towards future targets with robust trending data and YoY analysis
04
Increased Accountability from GPs
Enable data-driven decision making throughout the investment process
05
Better Engagement with GPs
Request data directly from EDCI member GPs through user-friendly in-portal request management functionality
06
Analysis of Financial Correlation
Creates an additional analytical lens to understand ESG's correlation to financial performance, unlocking insights and value-creation opportunities
Features
Streamline ESG Reporting from GPs
Request ESG data directly from your GPs in the EDCI platform, streamlining processes to save time
Analyze ESG Data Trends
Gain insight into Portco performance vs. the benchmark over time, unlocking new insights and guiding strategy decisions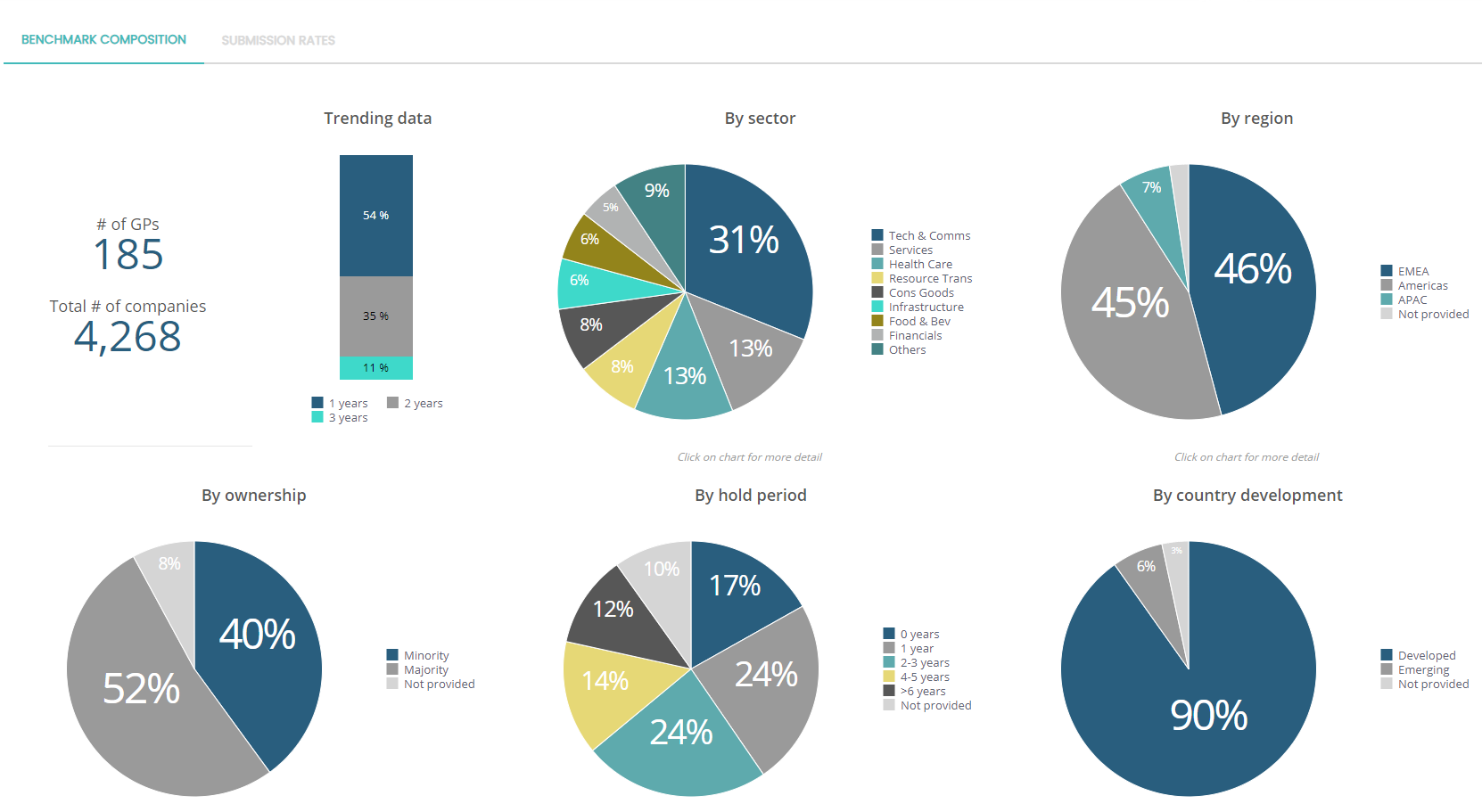 Customize ESG Benchmarks
Leverage data from 80 countries and over 4,000 portfolio companies for granular analysis into ESG performance around the world
"The EDCI allows us for the first time to collect, analyze and aggregate ESG data from across our portfolio in an effective manner"
"The work being done is very good and [the EDCI is] a good platform to continue building on mainstream ESG data and its reporting."
What EDCI members say about the initiative
Hear what members say about the EDCI
What does it mean for Limited Partners to be part of this initiative?
To participate, LPs agree to:
On a best efforts basis, where LP has relevant/ overlapping ESG data requests to GPs, align definitions with the EDCI's definitions
Encourage underlying GPs to align with this effort
On a best efforts basis, encourage additional industry efforts to drive ESG information/ data request convergence
Be publicly associated with the initiative
Voluntary: serve on working groups or self-nominate to join the Steering Committee
Learn more
Use our interactive benchmark demo to learn more about how you can include the EDCI platform in your work.
Interested in learning more about how the EDCI can support your organization?
Click "Learn more" for an exploratory conversation and a demo of the EDCI functionality.